Instructor: Jen-Hwang Ho(TW) +Ludmila Rodrigue(BR/NL)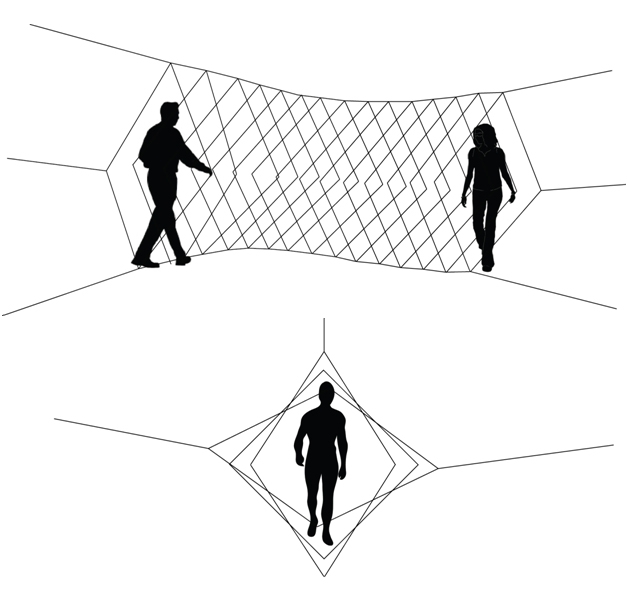 AGENDA
Our bodies are in constant exchange with the surroundings. Skin, muscles and bones are our hardware. Our limbs, ears and eyes are our sensors, identifying and informing us about the space. While walking, stepping on the ground, entering a new space, we sense the world, materials, bodies and other objects that exist around us. The environment is dynamic. We negotiate space with the others,  tacitly communicating and often moving together, across, passing and encountering other bodies.
Body Maze will explore physical and social behaviour by creating a context to materialises the dynamics of space and all the forces at play. We'll devise a structure that changes, bends and swings, responding to the interference of every user(s). As concept we are inspired by the structure of bridges. The notion of 'bridge' is a strategy to address both physical and metaphorical ideas, such as motion, transition and negotiation.
Bridges connect, conduct, reconcile, communicate. Bridges are 'between'. They are light-weight platforms, suspended, flying-over, trussed. Bridges convey the temporality of motion, they are about transition. Transitory spaces. Their function is but ephemeral.
We take the notion of lightness and transition to search for a geometry that expresses its efforts, staying flexible, dynamic and responsive. We're inspired by trussed structures and rope bridges, as they are models for studying the physical and dynamic interaction of forces, they embody action so to speak.
Our bridge will symbolise transition, a movement between past and future, or between nature and urban, marginal and "legal", between local residents and university students, between preservation and transformation, between economic interests and social-environmental concerns.